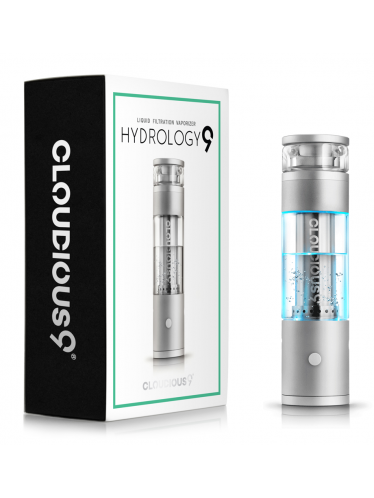 Hydrology 9
Liquid Filtration Reinvented
"Creating a truly unique vaporizer required us to think completely outside the scope of existing vaporizers on the market and tackle brand new problems"
Allowing unobstructed flow of vapor while keeping the Hydrology9 leakproof is inherently a conflicting concept. Accomplishing both goals in a seamlessly integrated design was truly challenging. The ability to fuse all three requirements aesthetically into the Hydrology9 design is the heart of Hydrology9's innovation. The results are a brand-new approach to liquid filtration, and the birth of our patent-pending "tunnel tube" liquid filtration design.
Mouthpiece & Magnetic Cover
"At the onset of the Hydrology9 project, our engineering team was determined to make the Hydrology9 mouthpiece an engineering masterpiece all by itself."
We designed the mouthpiece using 1/4 inch thick Borosilicate glass, which provides the best combination of strength and clarity. It was designed to curve at the perfect angle to provide the most exceptional comfort and ease of cleaning. Completing the Hydrology9 portable liquid filtration experience is a perfectly positioned ball valve built inside the mouthpiece, which allows the Hydrology9 to be carried and turned in any direction without the fear of spillage.
Borosilicate Glass Body
"Hydrology9 was designed to fuse a modern design concept with past traditions, so integrating glasswork into Hydrology9 was essential to our entire product design concept."
Nothing comes close to the familiarity of a crystal-clear glass piece when liquid filtration is involved. After numerous revisions and considerations, we were set on a minimalist cylinder design precisely shaped to prevent any liquid spillage while conforming to a grip easily.
Vaporization Experience
Featuring an 18mm by 10mm large, food-grade porcelain chamber with precise temperature control via microchip processor, Hydrology9 precisely monitors the oven temperature and makes adjustments within milliseconds to any change in oven temperature.
Even Heat Distribution
We implemented a patent-pending solution to a typical problem we see in today's vaporizers: a built-in device that allows you to evenly and efficiently distribute heat. The stir was integrated with the bottom chamber cover, with the cover made of spacecraft-grade aluminum alloy and the stir itself made of heat resistant stainless steel.
.
BODY MATERIALS
Space grade anodized aluminum alloy body. Borosilicate Glass mouthpiece.
BATTERY 
2000mAh lithium polymer battery (safe cell phone grade) Full charge takes 2-3 hours - lasting approximately 15 sessions. Takes approximately 60 seconds to reach optimal heat.
CHAMBER
Food grade porcelain chamber.
Hydrology9 Vaporizer
AC Adapter & Charging Cable
User Manual
Cleaning Kit Set