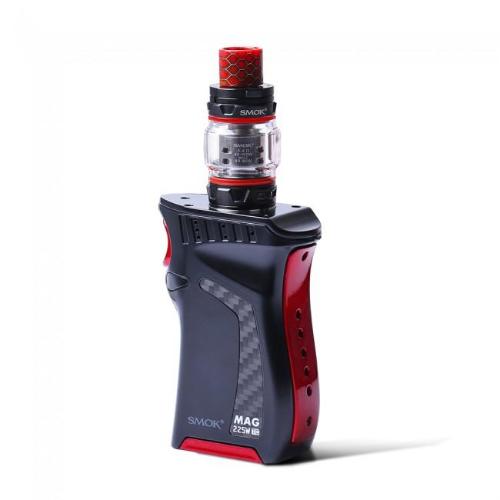 SMOK Mag 225W Starter Kit with TFV12 Prince Tank
With a high-quality, full metal body, this mod is easily the most ergonomically correct handheld vape ever designed! Not only does it look fast and furious, but the vape production is just as bad-ass. Simply pull the trigger and let the huge 8ml TFV12 Prince Tank do its magic! Plus, with a patented top cap tank locking mechanism, you can be sure that lid never accidentally slides open and leaks juice.
High Definition OLED screen
The crystal clear, full colour HD OLED screen gives you all the information you need at a glance including dual battery life indicator, atomizer resistance, current mode, current voltage and puff counts.
Battery installation is not only a breeze, but cool as F. Simply press the silver button and release the clip.
Three modes. Wattage Mode, Temperature Mod and Memory Mode.
The SMOK MAG and TFV12 PRINCE Tank take the following coils:
TFV12-T10 PRINCE Replacement Coils
TFV12-Q4 PRINCE Replacement Coils
TFV12-X6 PRINCE Replacement Coil
SMOK MAG KIT includes:
1x – Authentic SMOK Mag Mod
1x – TFV12 Prince Tank
1x – Cobra drip tip
1x – V12-Q4 Prince Coil (pre-installed)
1x – V12-T10 Coil
1x – Glass Tube Replacement
1x – USB
1x – Manual
1x – Screwdriver (to tighten the flower shaped button)