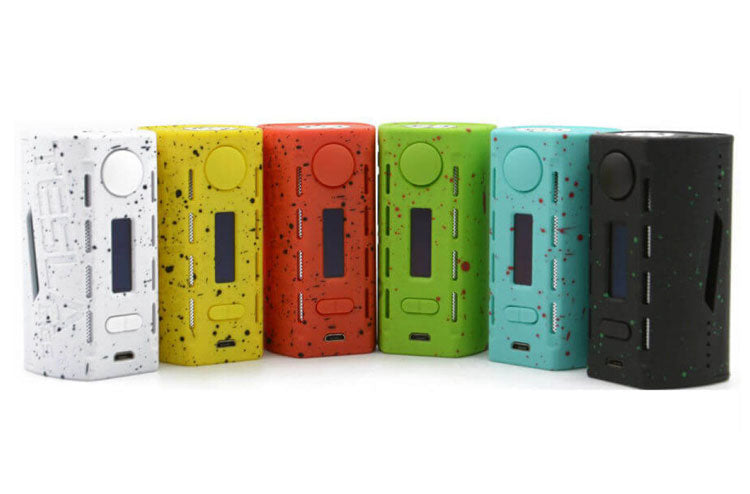 Tesla WYE 200w Box Mod
Tesla WYE 200w Box Mod is an incredibly lightweight box mode-cigarette box mod. The first thing you notice above the WYE 200w Box Mod is the fun design featuring paint splatters available in 6 bright colors; so you're guaranteed to find a favorite.


The second thing you'll notice is just how lightweight this Box Mod is as it weighs in at only 64.5g; made possible by the innovative use of PC/ABS - Polycarbonate/Acrylonitrile Butadiene Styrene. Despite how light this Box Mod is, it is built to be resistant to impacts, and high temperatures so is still a durable device. Powered by two  18650 batteries (not included), which can be recharged by Micro USB, this Box Mod is capable of producing a power output of 7W to 200W in 0.5W increments.


The bright OLED screen displays the resistance, voltage, taste setting, output mode, battery level, memory mode, and output wattage to keep you fully informed of the status of your vape; a must-have feature when sub-ohm vaping to ensure your safety.


Tesla has switched to a snap in system for holding the battery cover in place, proven to be more effective and durable than magnetic closures.
Features and Specs:


Made from PC/ABS - Polycarbonate/Acrylonitrile Butadiene Styrene
Lightweight at only 64.5g
82mm * 42mm * 39mm
Takes two 18650 batteries (not included)
Output wattage: 7W -200W (in 0.5W increments)
Max output voltage: 8.4V
Compatible with: KA/TC-SS316/TC-Ni200/TC-Ti/TCR mode
Taste Mode (soft, normal, hard)
Clear OLED Screen
510 thread
Resistance range (KA): 0.1ohm – 3.0ohm
Resistance range (Ti/Ni200/SS316): 0.05ohm to 1.0ohm
Temperature Range: 100-300℃/200-600℉